It began back in the 1970s when Ken's woodworking interest began with turning, moved to box and chest construction and then progressed to clock making. He and Mark often worked together, Ken in wood and Mark predominantly in metal, and a joint interest in time pieces, their construction and workings was born.
Roll on thirty years and Paul decided to re-commission the clocks he inherited from his grandfather, and the spark was generated within him and rekindled within his father....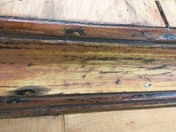 A very sad pine farmhouse longcase clock with cracks and splits, found in the corner of an auction, painted, stripped and (the final insult!) covered in cheap varnish.
When we began work we found that although it was primitively made, the base and hood were in nicely figured pitch pine. The back had rotted away in a number of places and been previously braced, and a number of other past repairs were in evidence.
On examination the movement proved complete and had evidently been maintained in the past. A tooth on the hour wheel was damaged and a tooth had broken off the chain wheel.
Splits and rot in the case were repaired with contemporary pitch pine recovered during mill work, and the movement stripped, cleaned and repaired.
Now stands in Mark's lounge!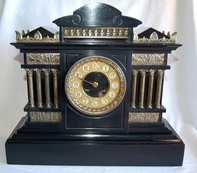 A French slate clock recently serviced and reconditioned for a customer.
(If I say we were not even aware the pictorial friezes were present, it will give some idea of the state it was in!)

You get some nice surprises - a rather dull little longcase clock recently bought at auction turned out to have something rather special inside when we got it home: a "Birdcage" movement.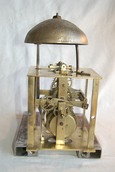 The "Birdcage" was the predecessor of the Longcase movement, the primary difference being that the 'plates' in between which the gears and pinions are mounted are top and bottom on the Birdcage, but front and back on the Longcase.
Although dating back to c17th, some makers continued with the Birdcage into the early c19th.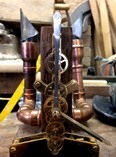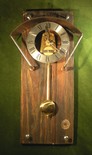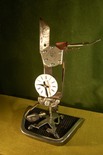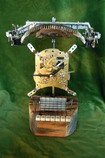 Some of our own:
(Left) Paul's first Steampunk clock.
(Right) Mark's rather disturbing typewriter clock.
(Left) Clock made from dash parts of a Peugeot Expert.
(Right) Timber from watermill, BSA valve guides and an old copper immersion tank.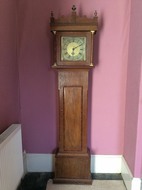 Early 2019 saw the arrival of a "Bitsa" (as we used to call motorbikes made of bits & pieces) Longcase from a lovely couple who were downsizing.
Advertised a c1750, the brass chapter ring is inscribed "John Steel" and the movement bears the name "G Kemp 1803".
The case? Well, the back may be 1750, but there appears to be a new softwood case with ironed-on oak venire built on top of it!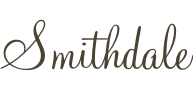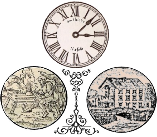 Heritage time-pieces returned
to life with passion.