For generations our family has been gifted (or is it cursed!) with 'enquiring minds'. Not only do we have to make things work, we have to understand how and why they do - a very handy trait in Millwrighting, but in life ….!
For Mark it began with a motorbike, a showman's wagon and a clock, for Paul, a different bike, a different clock and the same showman's wagon.
The wagon was restored in the early eighties by Mark and his father Ken who also made the longcase clocks. The bikes? (They are obsessed with these too and are only allowed to say Mark's 14CSR and Paul's SR500!)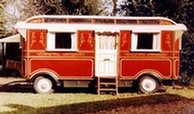 Ken started making clocks in the 1970's, Mark receiving his as a wedding present and Paul inheriting the first longcase made. Although restored and gone before he was born, Paul had always been fascinated by the wagon and was horrified when he found it at the Bygone Village in Fleggburgh - it's back broken and in a far worse state than when it came to us originally. We tried to buy it back when the site shut in 2004, but the owner would not sell and we believe it was eventually broken up. Paul's response? To build 'The Journeyman' (pictured in the Eastern Daily Press with him on the right) which wife Jodi now uses as her Steampunk workshop!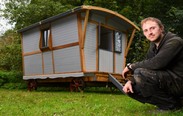 … and what do we actually do?
The simple answer is 'What we want, that you want'. With in-house wood, engineering, smithing and fabrication facilities along with an arsenal of complementary trades people, we are able to take on a wide range of work that interests us.








Up-Cycling - serving hatch using wood from an asylum floor and glass from a pub window.
Cast iron bath settee!
Building a new axle and wheels.
Up-cycling:
Lights from a whippletree
Toys from oak off-cuts






Shop fittings - Up-Cycled, new and re-commissioned individual fittings commissioned from us.
Bespoke solutions:
Stall for Norwich Market
Pull-out bed settee for Narrow Boat.
Sympathetic designs:
Kitchen units to match existing.
Under-stairs storage unit.








This French Shepherd's Hut had been standing in a field for many years. We stripped it completely back, extended the chassis and fitted a veranda, bespoke table / double bed unit along with a solid fuel stove and flu.




Property renovation & construction and a simple candle stand using an oak off-cut and up-cycled spoons!

Jewellery made from up-cycled cutlery and metal off-cuts and a custom sized five bar field gate.
Wine rack made from reclaimed water wheel timber and copper broach, hand forged from up-cycled water pipes and tank.
New Oak 'Saddle Horse' for storing and maintaining leather saddles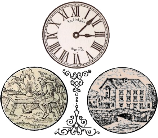 Wind and Water Mill maintenance & Repair
Stone Dressing & Milling Machinery
Flour processing Equipment
Retail Flour Production & Training
Recommissioning and Repatriating Longcase School, Wall and American Clocks
New Bespoke Furniture, Fittings, Equipment, Longcase & School clocks with period Movements