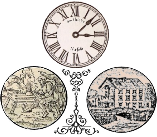 Lovingly repaired, restored,
We are very conscious that servicing and repairs to older clocks is often uneconomical; paying the value of the timepiece to have it looked at doesn't make sense - we recently came across someone who paid £120 for a very nice mantle clock, then spent £150 on having it serviced, only for it never to work.
Our 'Standard Service' on a clock is £57.00 and we aim for a 21 day turn around.
For this, the movement is cleaned, oiled, tested and regulated and the case given a 'freshen up' with the wax/oil treatment we have perfected.
If we find the need for any additional work, or have any recommendations for your clock we will contact you to discuss details and costs before any work is commenced.
No two clocks are the same and we believe in offering transparency to our customers; our time is costed at £15 per hour, and you invoice will only be for Service (if applicable) time, parts and consumables - no 'hidden extras'!
If this sounds like what you need for your clock, get in touch!